Update: May 8, 2018
The markings, habits, and calls of the birds at this site have us thinking that it's M49 and B32 back for another year. We can't be 100% positive though until we see the ankle bands.
Update: May 3, 2019
Four eggs at this site too! As soon as we get a look at the ankle bracelets, we'll let you know who the lucky parents are.
History
Drama! Early in the season, both two males and two females fought. It was difficult to tell who won the site, but judging from markings and behaviour, we believed it to be a repeat: M49 and B32.
The adults proved to be excellent providers, keeping the chicks extremely well fed. Viewers laughed as Mom practically sat on one of the chicks to keep it in the box area, while the other ventured out. She was constantly fighting a losing battle since these chicks were extremely curious and ready to explore. Despite constant escapes and a scary spring storm, the chicks survived in spite of their desire for fun and adventure.
---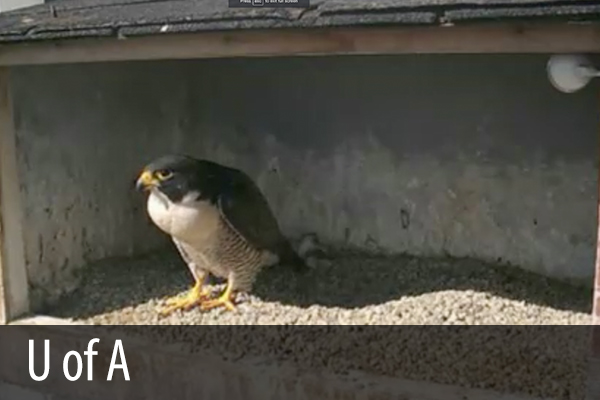 Species at Risk
Although the peregrine falcon and the ferruginous hawk get a lot of attention because they are obviously excessively cool, there are many other interesting species that are considered to be Species at Risk, and there is no good reason not to learn about them! For example, the greater sage grouse is a very unique looking upland bird and there are very few left in Alberta. Also check out some of the bat conservation initiatives in Alberta.
For further reading, you can read some Species at Risk Conservation Stories, or find more Species at Risk publications and resources.