Seasonal Summary: August 19, 2019
Here's a summer recap of Bells' family life: These adult peregrines were the first to lay their eggs this season, with all four of the chicks hatching late May. Once these fluffers began moving, they were hard to keep sight of as they had the room to amble in and out of camera range. Late June, two of the four chicks were moved to the Pembina hack site where the birds would develop and learn to fly safely before being released into the wild. One of those two had a pronounced frounce infection (caused by Protozan Trichomonas gallinae). Luckily, the chick was treated and able to move to the hack. The last two chicks were hard to keep tabs on; they were either perfecting their flying skills or had also been moved out to Pembina hack at a later date.
Update: July 18, 2019
Four down to two... now two down to none? It's hard to catch sight of these chicks as they're either perfecting their flying techniques or have been moved to the Pembina hack site, providing a safer environment to fly.
Update: June 25, 2019
Do not panic! Yes, there are now two chicks instead of four. No, they didn't fall out of the nest. Here's the reason: during banding one of the fledglings had an advanced frounce infection caused by the Protozoan, Trichomonas gallinae. It's an easily curable disease but fatal if left untreated. Medicine was on hand with funds provided by Bin 104. The cured chick and sibling were then transferred to the Pembina hack.
Update: June 24, 2019
Say this phrase three times fast: Banded birds at Bell! On Thursday, June 20th the Bell family were banded; now these young falcons' information will be recorded to help humans continue their existence.
Update: June 12, 2019
The teenage angst has begun! They eat a tonne and barely wait for Mum to prepare it before gobbling it up. In addition, they are much more mobile; we may begin losing sight of them as they restlessly amble in and out of camera range.
Update: May 29, 2019
The entire brood has finally hatched! We have good intel that the fourth chick hatched over the weekend, but since it appears to be smaller that the other three, it was hard to see all four.
Update: May 27, 2019
Congratulations to the first parents of the season! Three fluffy chicks (so far) have been seen waddling around since Saturday. We are hoping to confirm the fourth egg hatching soon. The parents continue to alternate between laying with the chicks and keeping watch.
Update: May 24, 2019
All is calm and well. Brooding can be a quiet and peaceful time as each peregrine takes turns on the eggs.
Update: May 8, 2019
The markings, habits, and calls of the birds at this site have us thinking that it's M49 and B32 back for another year. We can't be 100% positive though until we see the ankle bands.
Update: May 3, 2019
Four eggs at this site too! As soon as we get a look at the ankle bracelets, we'll let you know who the lucky parents are.
---
History
Drama! Early in the season, both two males and two females fought. It was difficult to tell who won the site, but judging from markings and behaviour, we believed it to be a repeat: M49 and B32.
The adults proved to be excellent providers, keeping the chicks extremely well fed. Viewers laughed as Mom practically sat on one of the chicks to keep it in the box area, while the other ventured out. She was constantly fighting a losing battle since these chicks were extremely curious and ready to explore. Despite constant escapes and a scary spring storm, the chicks survived in spite of their desire for fun and adventure.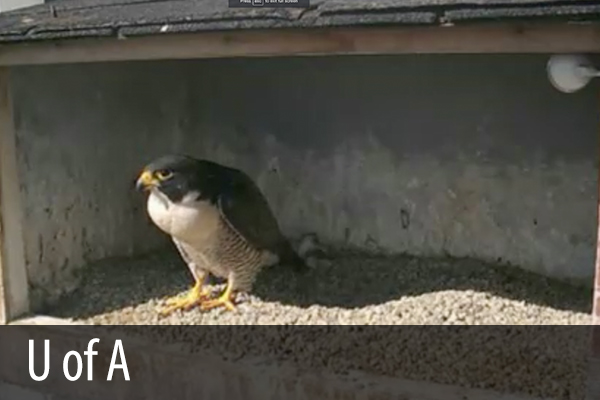 Species at Risk
Although the peregrine falcon and the ferruginous hawk get a lot of attention because they are obviously excessively cool, there are many other interesting species that are considered to be Species at Risk, and there is no good reason not to learn about them! For example, the greater sage grouse is a very unique looking upland bird and there are very few left in Alberta. Also check out some of the bat conservation initiatives in Alberta.
For further reading, you can read some Species at Risk Conservation Stories, or find more Species at Risk publications and resources.