Update: May 8, 2019
Judging from their markings, habits, and calls, we're pretty sure the unbanded male that's been coming here since 2012 and M27 are back for another year, but we can't be positive until we get a look at those ankle bracelets.
Update: May 3, 2019
We can't be positive what male and female have showed up this year, but we are positive that whoever they are, they're brooding on four eggs.
History
Parents of the Year: bring that award over to Genesee! Early last season, we confirmed the male spotted at this site is the same one that's been there since 2012. We were pretty sure that M27 came back for another year too.
This mom showed off some amazing timing. In 2017, it took about five days for the chicks to hatch. This last year there was 22 hours between chick one and chick four, despite the eggs being laid seven days apart!
Consider Genesee the calmest nest box of them all: no drama, just attentive parents raising their chicks. We'll see if 2019 brings more of the same.
---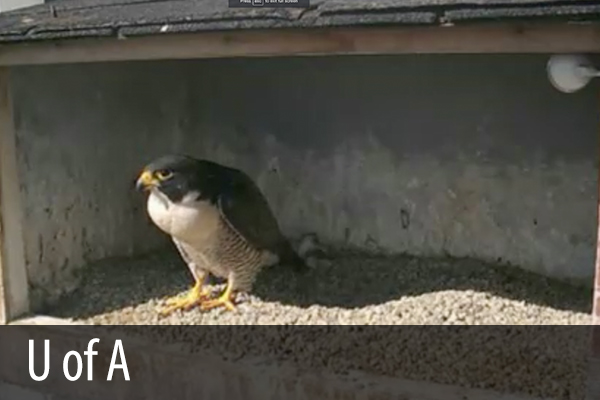 Species at Risk
Although the peregrine falcon and the ferruginous hawk get a lot of attention because they are obviously excessively cool, there are many other interesting species that are considered to be Species at Risk, and there is no good reason not to learn about them! For example, the greater sage grouse is a very unique looking upland bird and there are very few left in Alberta. Also check out some of the bat conservation initiatives in Alberta.
For further reading, you can read some Species at Risk Conservation Stories, or find more Species at Risk publications and resources.