Seasonal Summary: August 19, 2019
The adult peregrines were vocal with each other and often one was stationed on the rung outside, while the other sat on their brood of eggs. All four of these chicks were caught in the midst of Edmonton's smoke-infused days. However, smoke does not appear to negatively affect them; their habits and attitudes are not altered, and it does not impair their hunting. During fledging stage, some tested their wings while others waited before attempting the dauting act. None of these chicks were taken to Pembina.
Update: July 10, 2019
Why, you may think, are there a sporadic number of young peregrines at Genesee? It is because they are entering their feldging stage. Some are testing out their wings and trying to get the hang of flying, while others are waiting a little longer.
Update: June 24, 2019
A family banded together! On Wednesday, June 19th, the nest doors were closed which typically means banding is occuring. Banding generally ensues when the chicks are 22-30 days old because they have not fully grown into their flying feathers. Banding the peregrines helps keep tabs on their location, sex, and weight. The information is then recorded into databases for later use.
Update: June 12, 2019
These chicks are healthy and happy! Continual food and shelter ensures these feather-balls will be ready for their independence when the time comes. Chicks often fly between 40-45 days but can stay with their parents for up to 6 weeks and still be given food.
Update: May 29, 2019
The fourth and final chick has now hatched at Genesee! It was hard to see as Mum plopped herself down on them right away, but four—instead of three—bobbleheads can be seen.
Update: May 28, 2019
Genesee has three chicks! As hatching began earlier this morning the male swooped in to feed the chicks his bounty from hunting. Since peregrine falcons hunt on the fly, breakfast was most likely a small bird or a large part of a bigger bird.
Update: May 24, 2019
This pair seem to really like each other's company. They are very vocal with one another and are often seen together: one out on the rungs, while the other broods on the eggs.
Update: May 8, 2019
Judging from their markings, habits, and calls, we're pretty sure the unbanded male that's been coming here since 2012 and M27 are back for another year, but we can't be positive until we get a look at those ankle bracelets.
Update: May 3, 2019
We can't be positive what male and female have showed up this year, but we are positive that whoever they are, they're brooding on four eggs.
---
History
Parents of the Year: bring that award over to Genesee! Early last season, we confirmed the male spotted at this site is the same one that's been there since 2012. We were pretty sure that M27 came back for another year too.
This mom showed off some amazing timing. In 2017, it took about five days for the chicks to hatch. This last year there was 22 hours between chick one and chick four, despite the eggs being laid seven days apart!
Consider Genesee the calmest nest box of them all: no drama, just attentive parents raising their chicks. We'll see if 2019 brings more of the same.
---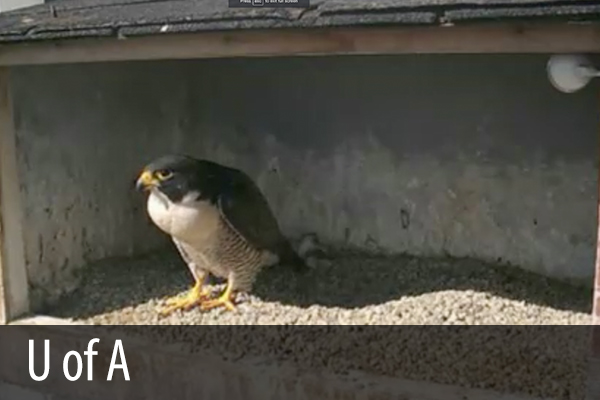 Species at Risk
Although the peregrine falcon and the ferruginous hawk get a lot of attention because they are obviously excessively cool, there are many other interesting species that are considered to be Species at Risk, and there is no good reason not to learn about them! For example, the greater sage grouse is a very unique looking upland bird and there are very few left in Alberta. Also check out some of the bat conservation initiatives in Alberta.
For further reading, you can read some Species at Risk Conservation Stories, or find more Species at Risk publications and resources.