History
The Misericordia could have its own peregrine museum, considering its lengthy falcon history! This site's original peregrine, RED G over H, nicknamed the "flying scalpel," rates as one of the most violent peregrine falcons ever to nest in Edmonton! This captive-raised peregrine was first ever seen hanging out on the Cabrini Center of the Misericordia Complex. This site remained unoccupied until 2008, when a female peregrine born at the University of Calgary hooked up with an unbanded male. This female has occupied the site ever since, having at least three different mates.
Last season we're pretty certain it was D01 (who was Green Girl's beau). He does all the things you'd want a falcon to do: food delivery, topping up the chicks after a feed, and cleaning up the box once the chicks have eaten. These falcons certainly made a good duo!
---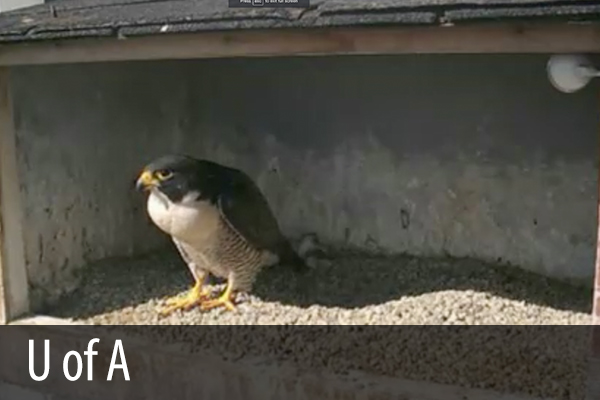 Species at Risk
Although the peregrine falcon and the ferruginous hawk get a lot of attention because they are obviously excessively cool, there are many other interesting species that are considered to be Species at Risk, and there is no good reason not to learn about them! For example, the greater sage grouse is a very unique looking upland bird and there are very few left in Alberta. Also check out some of the bat conservation initiatives in Alberta.
For further reading, you can read some Species at Risk Conservation Stories, or find more Species at Risk publications and resources.