Seasonal Summary: August 19, 2019
Nutrien's year began with an unfortunate incident of a raven snagging an egg during a territorial fight among four peregrine adults. News improved when 3 eggs were laid and hatched into healthy, linty balls. Sadly, the falcon went missing not long after, and the tiercel didn't continue to feed the chicks. The chicks were then moved to Pembina hack to be raised to fledglings before being released into the wild.
Update: July 24, 2019
The screen is not frozen; the nest is truly empty. Mum went missing last week, and Dad wasn't up to feeding, leaving the chicks without food for over 30 hours. The three fluffers have been moved to the Pembina hack site to be raised to fledgling age before being released into the wild.
Update: July 11, 2019
The last chick has hatched! These linty babies have a long way to grow until they reach the same stage as their peers in other nests, but with enough care, food, and rest, they'll catch up in no time.
Update: June 28, 2019
The eggs at Nutrien have finally hatched! Better late than never. This morning, two fluff balls have been staying warm and feeding with mum, while the last egg could hatch at any moment. Stay tuned!
Update: June 26, 2019
Tired of the rain and gloom? Here's a positive: rain does not affect peregrine falcons unless they are stuck in the onslaught of rain. If this occurs, the Mum often leaves to find shelter, leaving the down-covered chicks to bear the elements. Sadly, some die from hypothermia. However, the peregrine families we follow do not have that issue as all have overhead shelter, preventing the worst of rain.
Update: June 4, 2019
Interesting facts:
Not only are the peregrine falcons' cameras entertaining to watch, the cameras also serve a bigger purpose. Seeing the peregrine falcons expand their family is significant as they are classified as a Species At Risk according to the Government of Alberta. The more commonly known reason they are At Risk is because of the build up of DDT in the animal food chain (also known as biomagnification). However, this wasn't the only detriment to their population.
During World War 2, homing (or carrier) pigeons were used to deliver messages across the country. As falcons preyed upon these carrier pigeons, humans would shoot down the peregrine falcons to protect the pigeons and their messages.
Update: May 27, 2019
Another egg has been laid! We'd hazard a guess that it was laid on Saturday, as eggs are generally laid 24-36 hours apart. Nutrien is now home to a grand total of three eggs!
Update: May 24, 2019
News flash! Two new eggs have been laid! The first one was laid at some point between 4 pm on May 21 and 8 am on May 22 (sorry for the delay), and other one appeared this morning. So exciting! While we still don't know the identity of the beautiful, red-banded female and unknown male, we believe they are the lucky parents as they have been flying in and out the past couple days.
Update: May 8, 2019
Why does it always have to be the Nutrien nest box? More drama again this year--falcons, ravens, and unrest. Charlotte has been spotted but not been around much; a red-banded female (red bands generally indicate captive breeding) and a black-banded male (definitely not Bill) have been in and out of the nest the most of all the pergrines in the area. There has been a lot of fighting and somehow in the midst of all this, an egg was laid. Unfortunately, due to everyone being out of the nest fighting over territory, a raven was able to swoop in and snag the egg.
---
History
Last year's events at Nutrien kicked off with drama…which then escalated into violence and bloodshed. Sadly a territorial fight between Charlotte and N53 was settled, with N53's body being removed by the lead biologists of the peregrine program.
Although Bill and Charlotte got off to a late start considering the initial turmoil, it didn't take long for four eggs to appear. Hatching went smoothly, and Charlotte figured out (through a lot of trial and error) the best way to feed her zealous young.
Due to disease, a quick nest box renovation meant cleaning and fully changing the pea-gravel. A couple of the young were removed, but returned better and stronger than ever.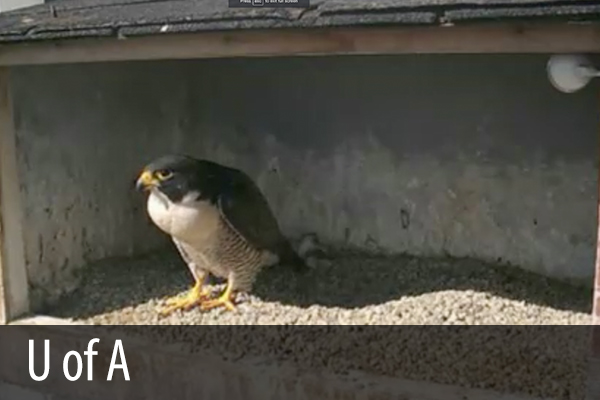 Species at Risk
Although the peregrine falcon and the ferruginous hawk get a lot of attention because they are obviously excessively cool, there are many other interesting species that are considered to be Species at Risk, and there is no good reason not to learn about them! For example, the greater sage grouse is a very unique looking upland bird and there are very few left in Alberta. Also check out some of the bat conservation initiatives in Alberta.
For further reading, you can read some Species at Risk Conservation Stories, or find more Species at Risk publications and resources.