Update: May 8, 2018
Why does it always have to be the Nutrien nest box? More drama again this year--falcons, ravens, and unrest. Charlotte has been spotted but not been around much; a red-banded female (red bands generally indicate captive breeding) and a black-banded male (definitely not Bill) have been in and out of the nest the most of all the pergrines in the area. There has been a lot of fighting and somehow in the midst of all this, an egg was laid. Unfortunately, due to everyone being out of the nest fighting over territory, a raven was able to swoop in and snag the egg.
History
Last year's events at Nutrien kicked off with drama…which then escalated into violence and bloodshed. Sadly a territorial fight between Charlotte and N53 was settled, with N53's body being removed by the lead biologists of the peregrine program.
Although Bill and Charlotte got off to a late start considering the initial turmoil, it didn't take long for four eggs to appear. Hatching went smoothly, and Charlotte figured out (through a lot of trial and error) the best way to feed her zealous young.
Due to disease, a quick nest box renovation meant cleaning and fully changing the pea-gravel. A couple of the young were removed, but returned better and stronger than ever.
---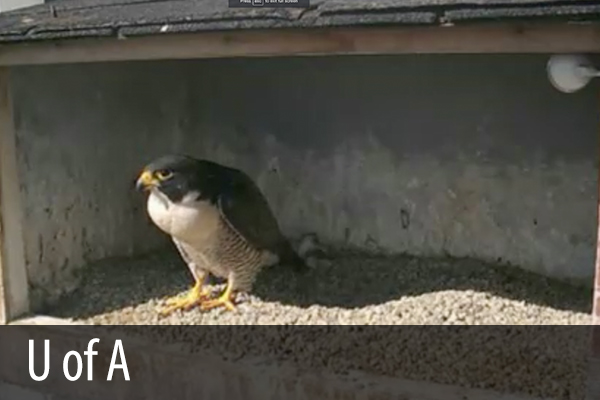 Species at Risk
Although the peregrine falcon and the ferruginous hawk get a lot of attention because they are obviously excessively cool, there are many other interesting species that are considered to be Species at Risk, and there is no good reason not to learn about them! For example, the greater sage grouse is a very unique looking upland bird and there are very few left in Alberta. Also check out some of the bat conservation initiatives in Alberta.
For further reading, you can read some Species at Risk Conservation Stories, or find more Species at Risk publications and resources.