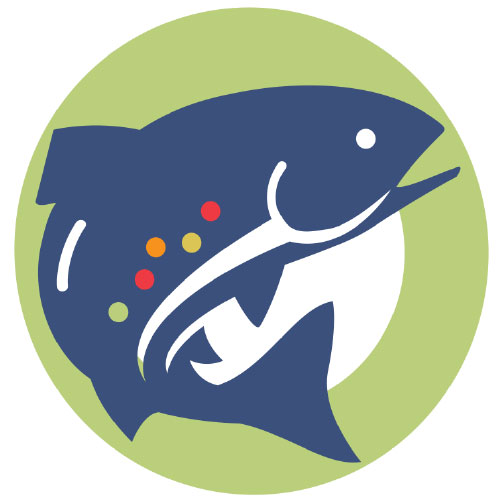 Find ACA Stocked Lakes Near You!
Whether you are a seasoned fishermen with thousands of dollars' worth of equipment or a complete newbie who found a Spiderman fishing rod at a garage sale, we can help you find a great fishing spot to call your own. With over 50 lakes stocked by our Enhanced stocking program, there are plenty of fish to go around.
Find out more about the bathymetry (depth) of ACA's stocked ponds here.
Don't forget to purchase a 2018 fishing licence and check the 2018 Alberta Sportfishing Regulations before heading out!
Update: Whirling Disease 2018
As many anglers are likely aware, in the fall of 2016, whirling disease was discovered in Alberta, including within several commercial hatcheries. While the parasite responsible for the disease has no impact on humans, it can be extremely debilitating to trout, salmon, and whitefish (for more information on whirling disease: http://aep.alberta.ca/fish-wildlife/wildlife-diseases/whirling-disease/default.aspx).
Alberta Environment and Parks (AEP) has undertaken a screening of all ponds stocked by ACA to determine the risk of fish escapement and the existence of whirling disease. Fort Lions Community Fish Pond at West River's Edge has been found to be positive for whirling disease and Hermitage Park Pond requires further testing. Hermitage Pond will not be stocked this year; however, Fort Lions Community Fish Pond has been stocked with yellow perch. Yellow perch are not infected by whirling disease and will not spread the disease should there be fish escapement. A longer-term strategy for managing the disease risk at Fort Lions Community Fish Pond will be developed; however, at this point AEP and ACA believe that stocking perch strikes a balance between reducing the risk of disease spread and maintaining an angling opportunity at this popular community pond.
Whirling disease is a serious risk to Alberta's fisheries. Please do your part to stop the spread of the disease and ensure you inform others to check out the AEP website: http://aep.alberta.ca/fish-wildlife/wildlife-diseases/whirling-disease/stop-the-spread.aspx.
If you have any questions or concerns, please do not hesitate to contact ACA at info@ab-conservation.com.
2018 ACA Stocked Lakes Table
| District | Waterbody | Species | Target Stocking Month | 2018 Stocking Status |
| --- | --- | --- | --- | --- |
| Drumheller | Anderson Dam | Rainbow Trout | May | Stocked |
| Camrose | Bashaw Pond | Rainbow Trout, Brook Trout | May | Stocked |
| Leduc | Beaumont Pond | Rainbow Trout, Brown Trout | May/June/September | Stocked Three Times |
| Bonnyville | Bonnyville Pond | Rainbow Trout | May | Stocked |
| Brooks | Bow City East | Rainbow Trout | May | Stocked |
| Athabasca | Boyle Pond | Rainbow Trout | May/June | Stocked Twice |
| Lloydminster | Bud Miller Park Pond | Rainbow Trout | May | Stocked |
| Vegreville | Castaway Pond | Rainbow Trout | May | Stocked |
| Stettler | Castor Pond | Rainbow Trout | May | Stocked |
| Ponoka | Centennial Park Pond | Rainbow Trout | May | Stocked |
| Olds | Cipperley's Reservoir | Rainbow Trout | May/June | Stocked Twice |
| Vermilion | Claude N. Brennan Memorial Pond | Rainbow Trout | May | Stocked |
| Grande Prairie | County Sportsplex Pond *NEW* | Rainbow Trout | May | Stocked |
| Camrose | Daysland Pond | Rainbow Trout | May | Stocked |
| Cochrane | Dewitt's Pond | Rainbow Trout, Brown Trout | May/June | Stocked Twice |
| Red Deer | East Stormwater Pond | Rainbow Trout | May | Stocked |
| Medicine Hat | Echo Dale Park | Rainbow Trout | May | Stocked |
| High River | Emerson Lake | Rainbow Trout, Brown Trout | May/June/September | Stocked Three Times |
| Lethbridge | Enchant Park Pond | Rainbow Trout | May | Stocked |
| Foremost | Foremost Reservoir | Rainbow Trout | May | Stocked |
| Ft. Saskatchewan | Ft. Lions Community Pond at West River's Edge | Yellow Perch | June | Stocked |
| Edmonton | Gibbons Pond | Rainbow Trout | May/June | Stocked Twice |
| Lethbridge | Gold Springs Park Pond | Rainbow Trout | May | Stocked |
| Coronation | Gooseberry Park Pond | Rainbow Trout | May | Stocked |
| Claresholm | Granum Pond | Rainbow Trout | May | Stocked |
| Red Deer | Hansen Reservoir | Rainbow Trout | May/June/September | Stocked Three Times |
| Stony Plain | Heritage Lake | Rainbow Trout, Brook Trout | May/June | Stocked Twice |
| Edmonton | Hermitage Park Pond | - | - | Not stocked in 2018 |
| Vegreville | Innisfree Trout Pond | Rainbow Trout, Brook Trout | May | Stocked |
| Vermilion | Irma F&G Pond | Rainbow Trout, Brook Trout | May/June | Stocked |
| Strathmore | Kinsmen Lake (Strathmore) | Rainbow Trout | May | Stocked |
| Olds | Kraft Wimborne Pond | Rainbow Trout, Brook Trout | May/June | Stocked |
| Edmonton | Lacombe Park Pond | - | - | Not Stocked in 2018 |
| Vegreville | Lamont Reservoir | Rainbow Trout | May | Stocked |
| Edmonton | Legal Reservoir | Rainbow Trout | May | Stocked |
| Red Deer | Len Thompson Pond | Rainbow Trout | May/June | Stocked Twice |
| Camrose | Lougheed Trout Pond | Rainbow Trout | May | Stocked |
| Cardston | Magrath Children's Pond | Rainbow Trout | May | Stocked |
| Lethbridge | McQuillan Reservoir | Rainbow Trout | May/June | Stocked Twice |
| Coaldale | McVinnie Reservoir | Rainbow Trout | May/June | Stocked Twice |
| Olds | Midway Reservoir | Rainbow Trout | May/June | Stocked Twice |
| Ponoka | Mirror Reservoir | Brown Trout | May | Stocked |
| Red Deer | Mitchell Pond | Rainbow Trout | May/June | Stocked Twice |
| Cochrane | Mitford Pond | Rainbow Trout, Brown Trout | May/June | Stocked Twice |
| Stony Plain | Morinville F&G Pond | Rainbow Trout, Brown Trout | May | Stocked |
| Ponoka | Mound Red Reservoir | Rainbow Trout | May/June | Stocked Twice |
| Airdrie | Nose Creek Pond | Rainbow Trout | May | Stocked |
| Ponoka | Nuggent Pond | Rainbow Trout | May | Stocked |
| Oyen | Oyen Concrete Plant Pond | Rainbow Trout | May | Stocked |
| Oyen | Oyen Reservoir | Rainbow Trout | May | Stocked |
| Camrose | Pleasure Island | Rainbow Trout, Brook Trout, Brown Trout | May/June | Stocked Twice |
| Provost | Pro Alta Pond | Rainbow Trout | May | Stocked |
| Smoky Lake | Radway Fish Pond | Rainbow Trout | May/September | Stocked Twice |
| Red Deer | Ray's Pond | Rainbow Trout | May/June | Stocked Twice |
| Grand Prairie | Shell True North Pond | Brook Trout | May/June | Stocked |
| Lethbridge | Stirling Children's Pond | Rainbow Trout | May | Stocked |
| Lethbridge | Taber Trout Pond *NEW* | Rainbow Trout | May/June/September | Stocked Three Times |
| Ponoka | Tees Trout Pond | Rainbow Trout | May | Stocked |
| Camrose | Telegraph Park Pond | Rainbow Trout, Brook Trout, Brown Trout | May/June | Stocked Twice |
| Vegreville | Two Hills Pond | Rainbow Trout | May | Stocked |
| Vegreville | Vegreville Children's Pond | Rainbow Trout | May | Stocked |
| Vermilion | Wallace Park Pond | Rainbow Trout | May | Stocked |
| Athabasca | Westlock Rec Pond | Rainbow Trout | May | Stocked |
| Wetaskiwin | Wetaskiwin Pond | Rainbow Trout, Brook Trout | May/June | Stocked |
| Ponoka | Windsor Lake | Rainbow Trout | May/June | Stocked Twice |