---
2021 Ferruginous Hawk Summary
Thank you for tuning in to watch the three ferruginous hawk trail cameras. In March 2021, all three nests had nesting pairs; by early April, eggs started appearing. Unfortunately, shortly after the eggs appeared in #Nest3, the camera went down indefinitely. Luckily, the cameras at #Nest1 and #Nest2 were still up and running for our viewing pleasure for the remainder of the season:
#Nest1: The same hawk pair from last year returned—and they are consistent! Last year, they started nesting on March 9; this year they came back on March 5—only 4 days difference! Of the four eggs that were laid, three young were born and fledged successfully.
#Nest2: The new hawk pair at this nest took their time building their new home. By the end of April, they had settled down with four eggs. Near the end of May, all four of the eggs hatched, but only three young fledged successfully in July. Spring (and the birds) is just around the corner! Check back in April 2022 to continue the #ferruginousfriday hawk adventure.
Species at Risk
Although the peregrine falcons and the ferruginous hawks get a lot of attention because they are so cool, there are many other interesting creatures that are considered to be Species at Risk, and there is no good reason not to learn about them! For example, the greater sage grouse is a unique looking upland bird and there are very few left in Alberta. Also, check out some of the bat conservation initiatives in Alberta.
For further reading, you can read some Species at Risk Conservation Stories, or find more Species at Risk publications and resources.
The Ferruginous Hawk Trail Camera project has now concluded for the 2021 breeding season. Thanks for following along with our hawks and see you next year!
Nest 1
Farewell Hawks!
Saying goodbye is never easy, but we are happy to report that it was a great year for the hawks at this nest: 3 young hawks have successfully fledged!
---
Dinner Den
The juvenile hawks at this nest are rarely seen on the camera these days, but clearly the nest still makes a great dinner plate!
---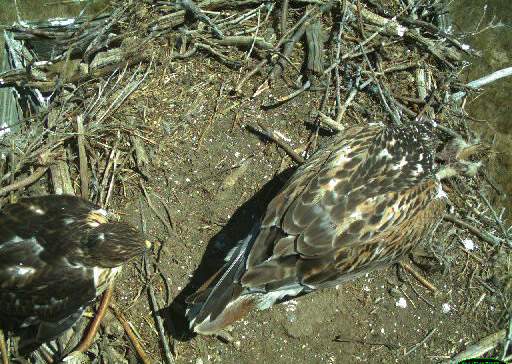 First Flights
Fledging underway! We have been getting a few empty nest images, which means the chicks have been taking their first flights.
---
Favourite Food
Another day, another ground squirrel. Do you think ferruginous hawks ever get tired of eating ground squirrels? No, the answer is no.
---
Breakfast, lunch, dinner!
Did you know? Raw ground squirrels are a very flexible food item, they are great for breakfast, lunch, and dinner! A single pair of Ferruginous Hawks can eat up to 500 ground squirrels per breeding season.
---
4/4
The smallest chick is still hanging in there, but there are no visible namesake feathers yet!
---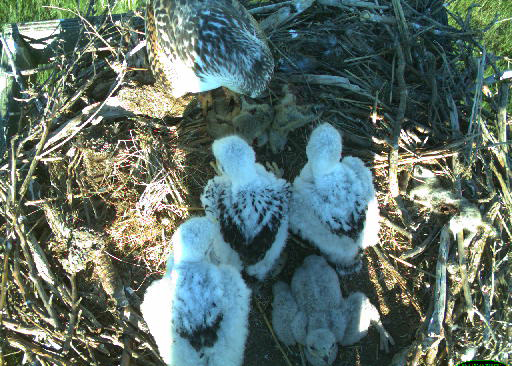 Ferruginous Feathers
Some of the chicks are already producing some darker feathers. Interestingly, the ferruginous hawk is one of only two hawks that have feathers that cover their legs for to their toes for better insulation against the cold.
---
Chick, Chick, Chick, Runt
Can you tell which of the chicks is the runt? So far, he appears to be getting fed, but his siblings may get the lion's share of the food. In some cases, the siblings may even kill each other or the runt could get bumped out of the nest. Hawk life can be brutal!
---
We Have Chicks!
All four eggs have successfully hatched at this nest! While four chicks is considered an average clutch size, there are reports of up to eight chicks at one nest. Those must be some crowded nests!
---
Rodent Breakfast Wrap
Yummy rodents galore! A single pair of Ferruginous Hawks can consume up to 500 ground squirrels in a breeding season.
---
Sunrise, Sunset
Twilight egg protection! Keeping the eggs safe is not just a full-time job, there are night shifts too!
---
More Than One Way
How many different ways can you sit on a pile of eggs? From 84 images in the last week, we can tell you with absolutely certainty that number is seven. Seven different ways.
---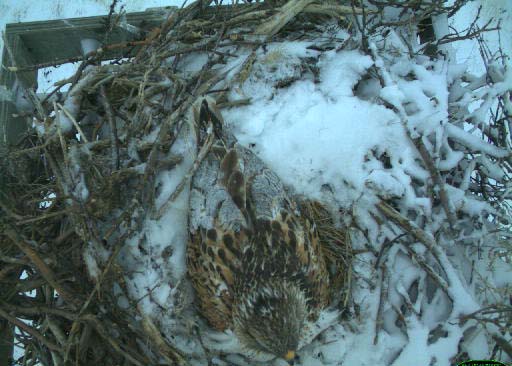 Frozen in Place
A recent blast of snow makes sitting on the eggs a full-time job to keep them warm.
---
From Three to Four
The quickest egg-laying hawks out of the bunch - we have four eggs already!
---
Egg Alert!
Looks like we have not one, not two, but THREE eggs in this nest already!
---
Triple Threat!
For the first time ever we have 3 cameras on 3 Ferruginous hawk nest sites!
---
One of our Ferruginous Hawks is back!
Last year this same hawk couple returned on March 9th, and this year they came back on the 5th, only 4 days difference. We have an exciting summer ahead - egg laying, bumbling chicks, ground squirrel munching, and more!
Nest 2
Farewell Hawks!
The birds at this nest also saw great success and added 3 more ferruginous hawks to the world. Farewell our feathered friends. We hope to see you again next spring!
---
Pre-fledge
It's almost hard to tell the difference between the adults and juveniles at this nest now! While they have not fledged quite yet and appear to be a little behind the hawks at the other nest, at least we are still getting some awesome photos of them!
---
Almost Ready!
No first flights at this nest yet, but it looks like they have been seriously considering it!
---
Rust Hawk
Our juvenile hawks seen here showing off their rust-coloured chest patches and the very reason why they were named ferruginous hawks (ferruginous is defined as containing iron oxides or rust, reddish brown; rust-coloured).
---
Wingin' It
First image of a chick wing test! While those stumpy wings won't be taking them into the clouds just yet, they are clearly thinking really hard about it.
---
Happy 21st
The chicks are roughly 21 days old and wing flapping usually begins around day 23. If we are lucky, over the next week we will get some images of them holding up their tiny wings!
---
Family Photo
The first photo of the entire hawk family together at this nest! Male chicks fledge as early as 38 days after hatching, so we have roughly one more month before they attempt their first flight.
---
Feeding Frenzy!
It's a feeding frenzy over here! This nestling period can range from 38 to 50 days.
---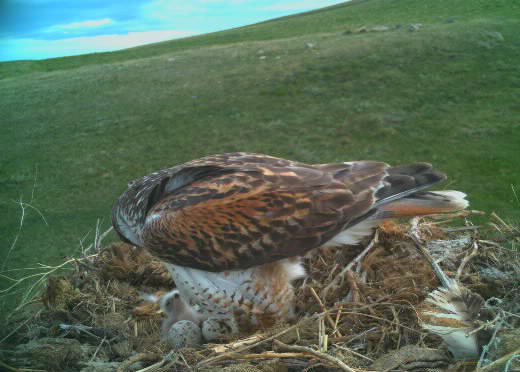 Chick Spotted!
At least one chick has hatched at this nest! Can you spot the tiny hawk face looking up for his first meal?
---
Hatching Imminent!
We are on roughly day 33 of egg incubation, which means chicks are imminent! Average incubation time is 32-33 days.
---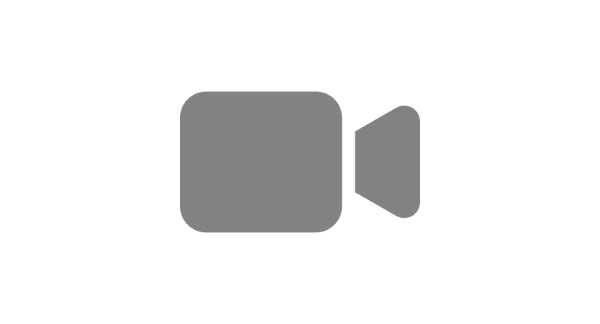 Please Bear With Us
This camera is experiencing technical difficulties, check back soon!
---
Hidden Eggs?!
It appears that full time sitting has commenced at this nest. We haven't clearly seen any eggs in the images, but it sure seems like there is something worth sitting on here!
---
Suprise Attack!
Just kidding, both hawks are doubling down on nest construction for now.
---
Under Construction
After some construction delays from windstorms, nest building is back in full swing.
---
Show-off
Showing off those beautiful rust colours for the camera! We are glad to report that all 3 nests are now occupied; eggs and hawk chicks incoming!
---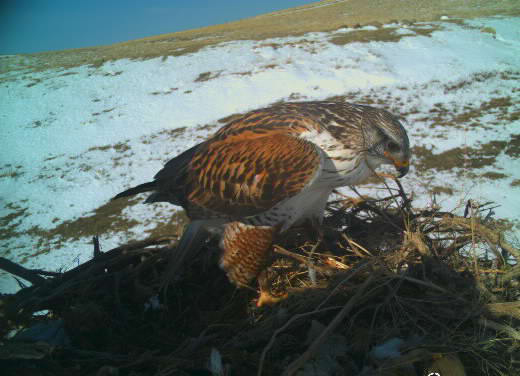 Who Ordered All This Snow?
Currently all three nests have hawks and there is lots of nest building going on to prepare for a summer of protecting eggs and raising chicks.
---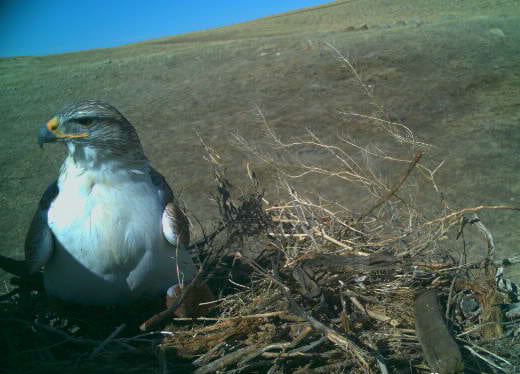 The Birds are Back!
We're welcoming a nesting pair back to nest two - they're already busy prepping for the season!
Nest 3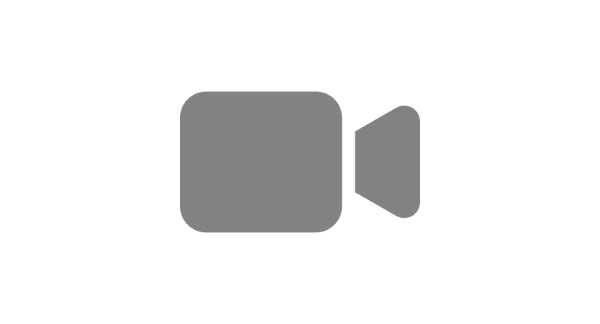 Camera Down
While an unknown technical problem has prevented this camera from sending images, a report on this nest will be available when the cameras are collected this fall and the images are manually retrieved.
---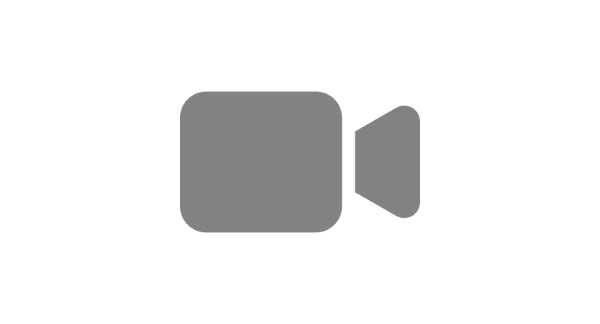 Camera Down
Unfortunately, we believe this camera is down for the season. We hope to have it up and running for next year's pair of hawks!
---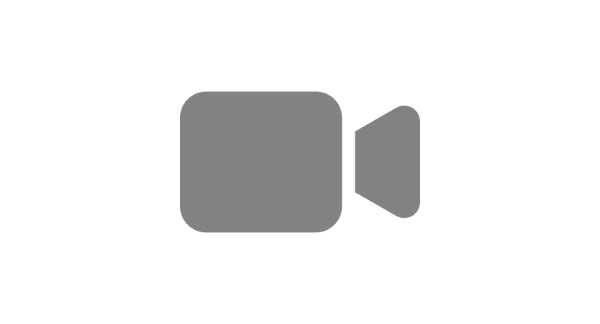 Please Bear With Us
This camera is experiencing technical difficulties, check back soon!
---
More Stick Engineering!
There was a glimpse of an egg in this nest but nothing confirmed yet.
---
Eggs Incoming?
Lots of hawk cuddling going on at this nest... eggs must be coming soon!
---
Winter Sun
When it's -02°C, you've gotta soak up as much sun as you can.
---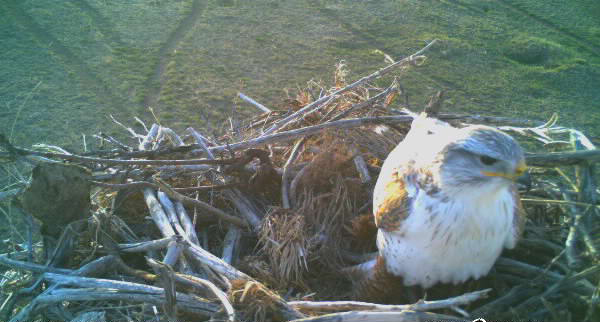 The Birds are Back!
Historically, Ferruginous Hawk nests were partially constructed of the bones and wool of bison. Does this mean the hawks used to hunt bison? No, no it doesn't, but it's fun to imagine.
---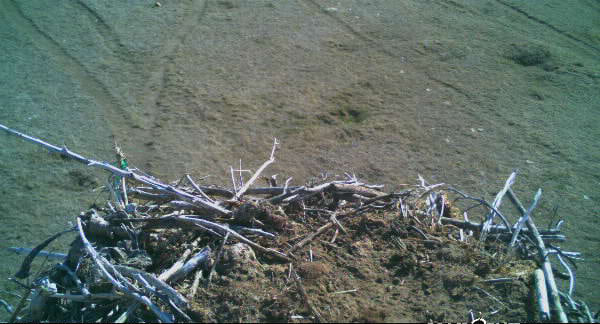 Stay Tuned...
No hawks spotted at this nest site yet, but stay tuned - they'll be back soon!