This is the second year of our Ferruginous Hawk Trail Camera Project. Not only have we set up the camera in a new position to get better quality photos of the hawks and their chicks, we have added a second camera as well.
The ferruginous hawk is considered an At Risk species and is classified as endangered under the Wildlife Act. In recent years, the number of Ferruginous hawks have declined due to habitat loss. It is estimated that there are less than 700 pairs in Alberta.

---
July 27th Update
Although we are sad to say goodbye to our hawks chicks, we are happy to report that all chicks are healthy and have figured out what their wings are for.
---
July 20th Update
It appears our hawk chicks have taken their first flights as the nest is now empty some of the time.They still return to the nest for the occasional cuddle, however.
---
July 13th Update
Imagine if every time your leg was itchy, you had to chew on it.
---
July 6th Update
Fledging is imminent! The chicks aren't exactly chicks any more. The next update just might be an empty nest.
---
June 29th Update
It looks like our hawks have a couple squirrel-flavoured snacks saved for later. Two hawks (with chicks) consume an average of 480 ground squirrels per season!
---
June 22nd Update
Everyone knows the best moms stand on top of their children for extended periods of time.
---
June 15th Update
The hawk chicks are already starting to show their adult markings.
---
June 8th Update
Don't they grow up so fast?
---
June 1st Update
The chicks are nearly two weeks old and are already starting to wander around the nest.
---
May 25th Update
All four ferruginous hawk chicks have hatched!
---
May 18th Update
Our Ferruginous hawk mom inspecting why one of her eggs suddenly starting biting her butt. Three more chicks to come!
---
May 11th Update
It has been 35 days since the first egg was laid. Chick hatching should be imminent.
---
May 4th Update
Our hawk mom is still going strong, we should be on egg watch after next week. Ferruginous hawks often re-build nests built by other hawks. Biologists can take advantage of this by using artificial nests to help boost populations.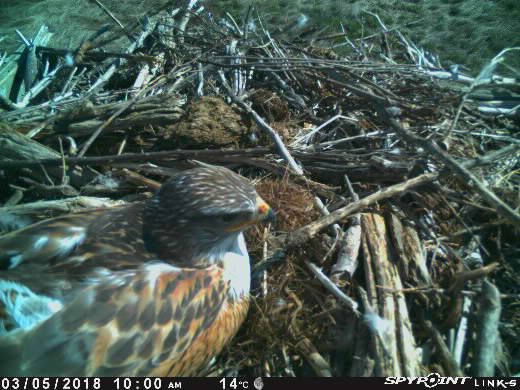 ---
April 26th Update
We are on day 20 of incubation! With roughly two weeks to go, we should be getting some great shots of tiny hawk chicks really soon.
---
April 20th Update
The first image of our hawk pair together. Did you know? Ferruginous hawks pairs are cooperative hunters -- they have been seen helping each other take down prey.
---
April 13th Update
It's ferruginous friday! The good news is that we have 3 eggs. The bad news is... she is onto us.
---
April 6th Update
Our ferruginous hawks are expecting! Keeping this little guy warm is done by both sexes with each taking about the same number of shifts during an average 32-day incubation period.
---
March 30th Update
It's Ferruginous Friday! Did you know? Male and female ferruginous hawks have identical markings. The only noticeable difference between them is that females are somewhat larger.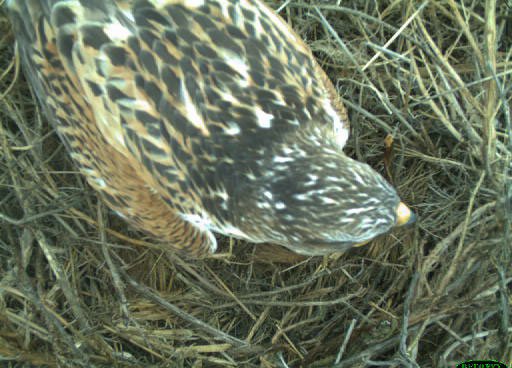 ---
March 27th Update
Looking a little more cozy -- what 7 days of nest building progress looks like. For a ferruginous hawk pair, both sexes work on the nests, but the male is more often seen retrieving materials while the female arranges the nest.
---
March 23rd Update
Ferruginous hawks can have a grey, white, or rusty coloured tail. Looks like we have a rusty in this nest!
---
March 20th Update
Snow is all cleared. Good thing we left a tiny snow shovel when we installed the cameras.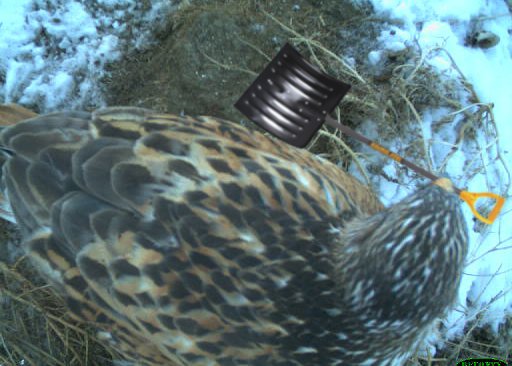 ---
March 19th Update
That face you make when you wake up Monday morning and your nest is covered in snow.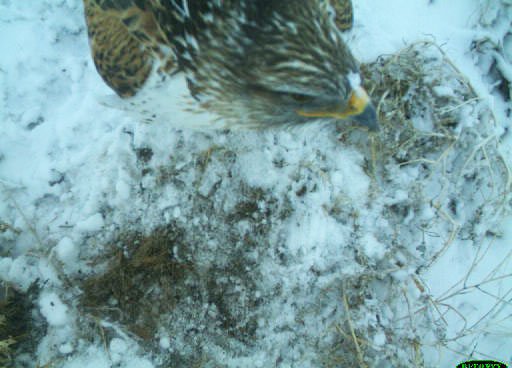 ---
March 14th Update - The Hawks Have Returned!
Ferruginous hawks generally arrive in Alberta in mid-March, and this year they are on schedule. These hawks are creatures of habit; they are known for coming back to the same nest site year after year, which makes setting up nest cameras a little easier. Stay tuned for all sorts of hawk hijinks!
Species at Risk
Although the peregrine falcon and the ferruginous hawk get a lot of attention because they are obviously excessively cool, there are many other interesting species that are considered to be Species at Risk, and there is no good reason not to learn about them! For example, the greater sage grouse is a very unique looking upland bird and there are very few left in Alberta. Also check out some of the bat conservation initiatives in Alberta.
For further reading, you can read some Species at Risk Conservation Stories, or find more Species at Risk publications and resources.